Photo above: Amra Bengali crowd at Dharmtala, Kolkata
(Kolkata, 19 November 2015) – The socio-economico-cultural movement Amra Bengali (AB) declared the rudimentals of its program platform when presenting a 10 points demand at a public meeting at Dharmtala, downtown Kolkata. The demand included:
Like Marathi, Punjabi, Jats, and Tamils are given respective homelands in the federated structure of India, Bengalis should be given their homeland — Bangalistan.
Bengali language should be used in all official and non-official work all over Bangalistan within and beyond West Bengal.
A Bengali regiment should be reintroduced into the Indian Army, like Maratha, Sikh and Rajput regiments
All Bengali immigrants should be granted Indian nationality without a question mark.
The amendments to citizenship charter that were done in the years 1986 and 2003 need to be cancelled.
The local Bengali youth must be given 100% employment as per Prout.
Block level planning has to be introduced and agro industries and agrico industries have to be established. Agriculture has to be given the status of industry.
The publication of advertisements and showing of TV serials, cinemas, etc., which are disrespectful to the dignity of women have to be stopped forthwith.
The GTA agreement promoting outsider Nepalis' self-interests has to be rejected forthwith.
In the entire north-east including Manipur-Assam, there is a systematic conspiracy to cancel voting rights of Bengalis and place them in outsiders' camps -this has to be stopped forthwith.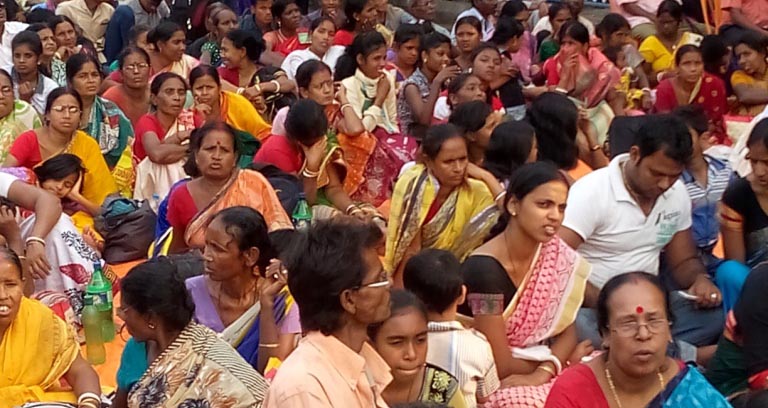 The AB Mahila (women) Samaj section at Dharmtala, Kolkata. Women form a strong, essential part of the AB movement.
Following the recent election of Mr. Bakul Roy as AB Samaj secretary, the AB movement has resurged throughout Bengal. The 6000 strong gathering at Dharmtala even included representatives from the samaja's border areas including Assam's Silcher, Manipur, Jharkhand, Bihar, Odisha etc.
After a chorus on Bangalistan by Spandanik (the cultural forum of Proutists samajas), representatives delivered power-packed lectures. Samaj worker Sadhan Purakayastha of Silcher informed the gathering how Bengalees are being subjugated in Silcher and Manipur area where an open campaign has been launched to oust Bengalees who have lived in this area for decades. Shri Tarapada Biswas (the Asst. AB Samaj Secretary), Bikash Biswas (Movement Sachiv) spoke very well. Also speakers from Tripura and Manipur were very effective. Sister Sagarika of Bangla Mahila (Women) Samaj was very strong in her elaboration of exploitation by pseudo culture.
The Rarh area speakers vividly pointed out how Rarh area is the starting point of human civilization and how the people there are being exploited for ages. They pointed out that Prout's propounder Shri Prabhat Rainjan Sarkar has appealed to humanity at large to help Rarh to come up. But it is clear now that the Rarh itself has to rise up and fight the exploiters.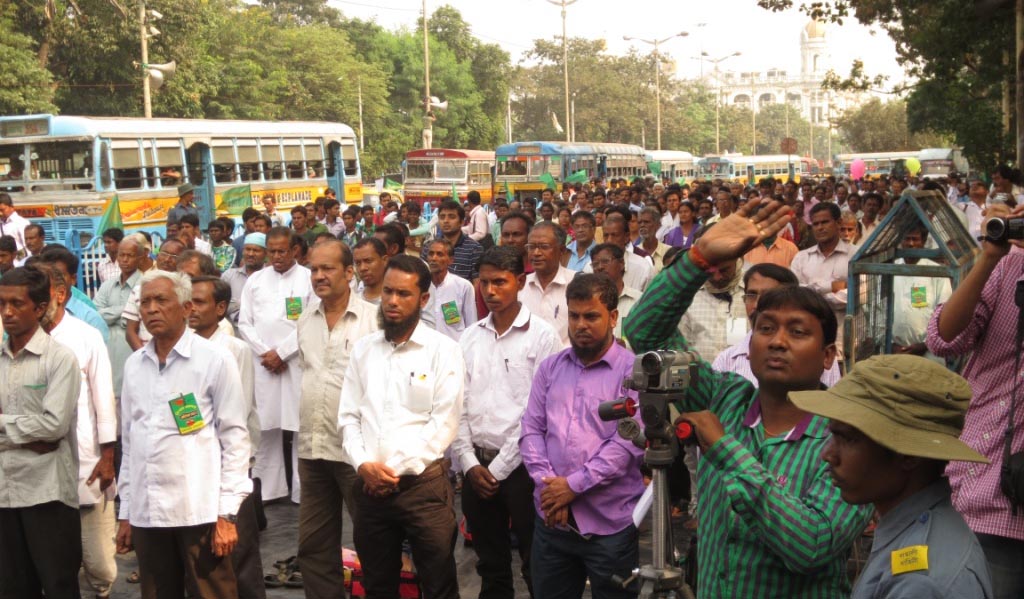 Singing the hymn of Bangalistan at Dharmtala, Kolkata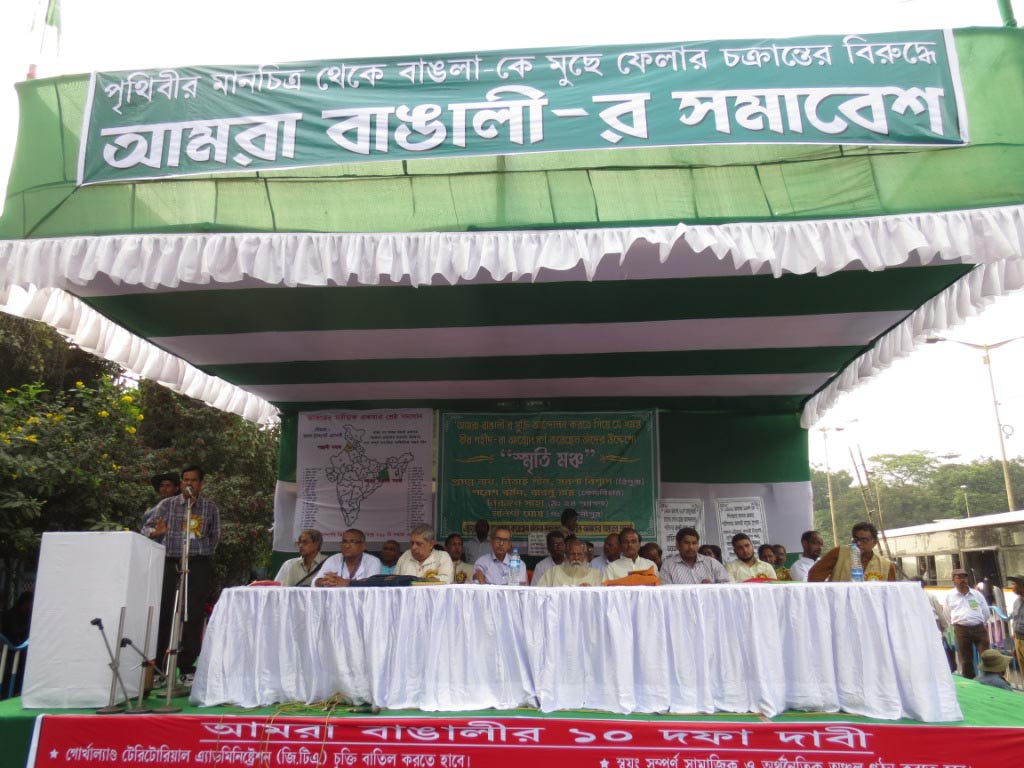 Representatives addressing the meet at Dharmtala, Kolkata