Can We Do It Ourselves, an educational 60 minutes movie about the need for democracy in the economic arena. From its main premise, that Sweden is a political but not an economic democracy, the film develops and substantiates arguments and practical suggestions for making the world a more economic-democratic place. With input and examples from various countries and regions.
Movie story line: Can We Do It Ourselves focuses on economic philosophy with an emphasis on the concept of economic democracy. The film helps viewers understand the difference between a market economy in which consumer demand drives a company's supply of goods and services, and a capitalist economy in which private owners control production and hold a right to the profits. There is strong support for the potential promise of a democratic economic model in which workers have more of a say in business operations than either market or capitalist models.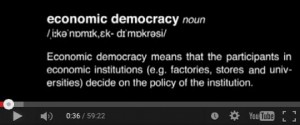 Input from European and American economic experts as well as general consumers helps to unveil the complexities of these economic models by presenting the potential benefits and pitfalls of each. Many of the interview subjects argue in favor of greater democracy in the workforce, highlighting a need to establish a system that emphasizes the importance of workers' welfare.
Political scientist Bo Rothstein argues that capitalism essentially sees workers selling themselves into slavery. Companies built around a workers' cooperative, however, center more on the well-being of those providing labor over the maximization of profit. By making managers responsible to the workers, instead of the other way around, the quality of work improves. The driving philosophy in putting more power in the hands of the workers is that they will take more pride in what they're doing when they are, in essence, working for themselves.
Janerik Larsson, former VP of the Confederation of the Swedish Enterprise, is the primary voice of dissent throughout the film, cautioning that proponents of a democratic economy are trying to make an ideology out of a reality that is too fluid and ever changing in nature. He claims that he has not seen effective, practical economic democracy, and weighs in favor of a market economy within a democratic society instead of an actual democratic economy.
Can We Do It Ourselves calls into question the fact that democracy prevails in so many models of world politics, yet not in economic spheres. By examining the key differences between market, capitalist and democratic economies, the filmmakers are able to present the many perceived benefits of empowering the working class and re-calibrating the scales of corporate influence.