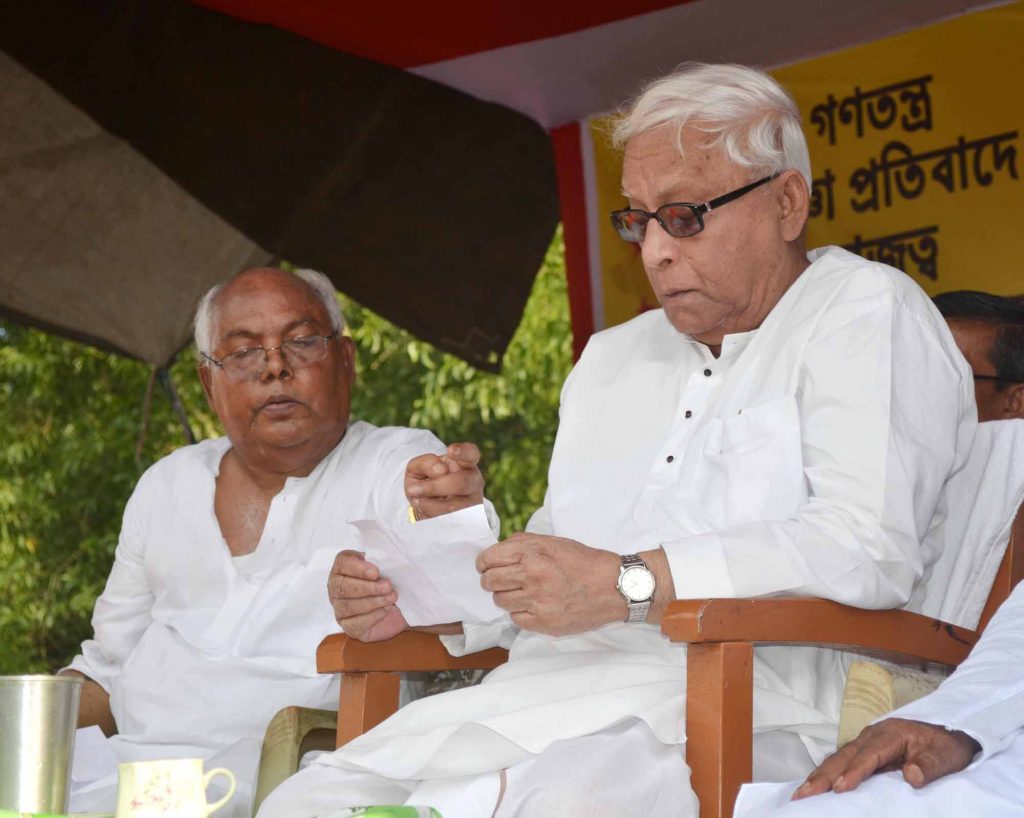 Marxist politician Kanti Ganguli (left) with Buddhadeb Bhattacharjee, former Chief Minister of West Bengal
[June 27, 2016] – Honourable Justice Dipankar Dutta of Calcutta High Court rejected the plea of Mr. Kanti Ganguli, an accused in the Bijan Setu Massacre, to declare Justice Amitabha Lala Commission illegal. A battery of lawyers, led by Senior Lawyer Bikash Chandra Bhattacharjee argued in favour of Kanti Ganguli, who conspired to massacre a large number of innocent Ananda Marga sanyasis, a sanyasini (yogic nun) and Shri Ram Raghuvir, member of Ananda Marga of Jaipur.
Despite Mr. Ganguli's best efforts to escape the Inquiry the honourable Justice ordered that he has to stand trial before the commission. Mr. Ganguli and others committed a most inhuman crime and will have to face the Inquiry that is being conducted.
The case went on for weeks in Calcutta High Court. The State, which was the main party to oppose the plea, was represented by Additional Advocate General Shri Laxmi Kanta Gupta. He forcefully argued that Deb commission became null and void as it did not submit any report and cannot be used to declare present Inquiry Commission under Justice Amitabha Lala illegal. He cited different rulings of Supreme Court in support of his arguments.
The scanned judgment of Kolkata High Court regarding Mr. Ganguli's plea concerning the validity of the Bijan Setu massacre commission (pdf)